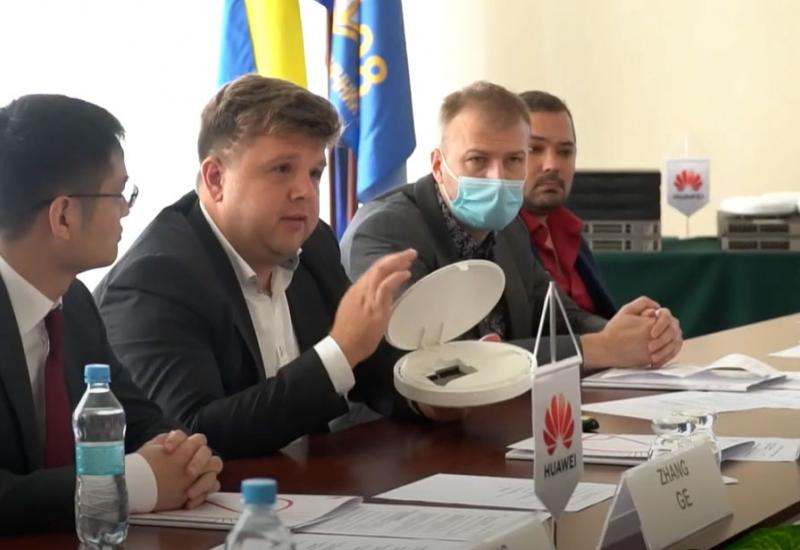 On August 19, 2021, TOV Huawei Ukraine donated to the National Technical University of Ukraine "Igor Sikorsky Kyiv Polytechnic Institute" the latest equipment to study and research information and communication technologies.
The equipment includes switches, routers, high-power Wi-Fi AirEngine controllers, access points for the latest Wi-Fi-6 standard with smartphones, USB, Bluetooth low energy, and an IoT connection slot.
Today, Igor Sikorsky Kyiv Polytechnic Institute has a branch office of the Huawei Information and Network Academy (Huawei ICT Academy). TOV Huawei Ukraine and Igor Sikorsky Kyiv Polytechnic Institute signed the relevant agreement in July 2020.
The Academy prepares future university graduates to work in information and communication technologies (ICTs). Students gain knowledge and skills favorable to start a career in ICTs, continue education, and master other technical specialties.
The program is based on a blended learning model. It combines the high quality of traditional education with direct contact between a teacher and a student and training courses and testing tools based on modern technology.
'The Huawei ICT Academy is a brilliant example of a joint learning and research environment at the University and the high-tech company – Huawei. This environment serves not only the basis for training highly qualified specialists but also a means of achieving joint world-class technological breakthroughs,'  said Michael Zgurovsky, Professor and Rector of Igor Sikorsky Kyiv Polytechnic Institute.
'The Ministry of Digital Transformation is glad to see one of the world leaders in ICTs technological developments and the leading technical Ukrainian university cooperating. Upgrading technology equipment in education, science, and research will foster new technologies. Training highly qualified specialists in designing, building Internet networks, meeting customer needs, setting up and servicing Internet access networks will improve the digital infrastructure,'  said Yurii Matsyk, Director of the Directorate for Digital Infrastructure Development of the Ministry of Digital Transformation.
'We appreciate our long-term cooperation and partnership with Igor Sikorsky Kyiv Polytechnic Institute. We hope the equipment we present today will help students learn and promote new highly qualified telecommunications professionals in Ukraine. We hope they will make a significant contribution to Ukraine's digital economy,' said Zhang Ge, Director of Human Resources at Huawei Ukraine.
As part of the Huawei ICT Academy, teachers of Igor Sikorsky Kyiv Polytechnic Institute passed certification in HCIA-Datacom and HCIA-WLAN.
HCIA-Datacom is a core course in network technologies. Students gain relevant knowledge and skills in routing and switching, security and wireless technologies, software-controlled networks, etc.
The HCIA-Datacom course is the first educational course of the Huawei ICT Academy available in Ukrainian. The Faculty of Radio Engineering and the Department of International Relations of Igor Sikorsky Kyiv Polytechnic Institute translated HCIA-Datacom into Ukrainian.
The Huawei ICT Academy offices are in such higher educational institutions as the National Technical University of Ukraine "Igor Sikorsky Kyiv Polytechnic Institute", Taras Shevchenko National University of Kyiv, Kharkiv National University of Radio Electronics, Lviv Polytechnic National University, National Aviation University; State University of Telecommunications, Ivan Franko National University of Lviv, and STEP Computer Academy in Kharkiv.
Huawei Ukraine cooperates with several Ukrainian universities in various scientific fields. For instance, in June 2021, Kyiv National Economic University named after Vadym Hetman published the results of the research project initiated by Huawei Ukraine Digital Economy: the impact of ICTs on human capital and the formation of future competencies.
About Huawei 
Huawei is the world's leading provider of information and communication technologies (ICTs) infrastructure and smart devices. By creating integrated solutions in four main areas (telecommunications networks, IT, smart devices, and cloud services) The company seeks to open up a digital world in which everything is intelligent and interconnected for everyone, home, and organization.
Huawei has a comprehensive portfolio of products, solutions, and competitive and secure services. Through open collaboration with ecosystem partners, the company creates long-term value for customers, seeks to empower people, enrich their personal lives, and foster innovation in organizations of all shapes and sizes.
Huawei was founded in 1987. It is a privately owned company owned entirely by its employees.
Huawei aims its innovations at meeting customer needs. The company invests in basic research and focuses on breakthrough innovation that moves the world forward. The company has more than 197,000 employees in more than 170 countries and regions, serving more than 3 billion people worldwide.
Huawei has been operating in Ukraine since 2000. The social responsibility strategy of Huawei covers four areas: education, healthcare, environmental protection, and development.
ДЖЕРЕЛО:
https://kpi.ua/en/2021-08-19